Brass Knobs
Brass knobs & knobs in brass for dressers, kitchens, bathrooms and closets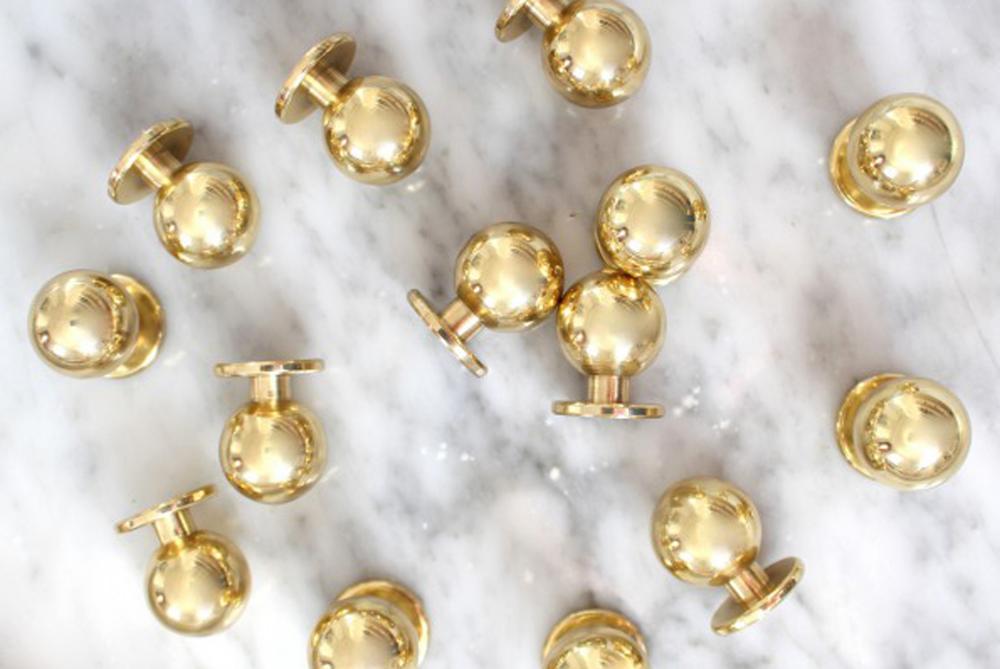 BRASS KNOBS
A renovation using the little things!
Here you will find knobs that quite literally bring a gold edge to your existence. Are you in need of a change in your home but not quite sure how to go about it? We have what you need! Starting with small details that make a big difference will get you a long way. Are you for instance in a rental property where the kitchen is starting to seem a bit dull, but the cost of renovating it doesn't seem like it would be worth it? Brass knobs are the perfect solution for you! Changing the knobs in a kitchen is a convenient, easy and quick-to-do solution that can easily be restored, if needed when you move out.
Renovation doesn't have to mean starting up major projects when in fact little simple tricks can give your kitchen, hallway or bedroom a whole new look. Change the knobs on your hallway furniture and match it up with the same knobs, for hooks, on your wall.
Brass and gold knobs
These past years, brass and gold knobs have become a major trend in the world of interior design. You can find brass details everywhere and it's really the small details that have made it big. If you want to go with the trends and stay up to date, you can, for instance, change your current knobs in your kitchen for that of a new set of brass ones, making your kitchen as trendy as ever at barely any cost.
Brass and gold are both part of very prominent trends that can be fun to go with, even though you don't have to. Creating a comforting home is after all the only thing that matters when it comes to furnishing and interior design. However, if you want to try one of the big trends without making a huge commitment, brass knobs may be a very good alternative. Trying something outside of your comfort zone when it's so convenient to return it to its original state, should make everyone want to try it and after all – a little change can go a long way.
Not all that glitter, is gold..
But almost! With gold-plated or brass knobs, you can make the dullest looking dresser and the most basic bathroom washstand to glitter like gold. Here you will find affordable brass knobs online, manufactured to fit all the dressers, drawers, cabinet doors and latches on the market and all delivered quickly all across Sweden.