LED lighting & Kitchen lighting
Wide range of LED strips, LED spotlights and mini spotlights!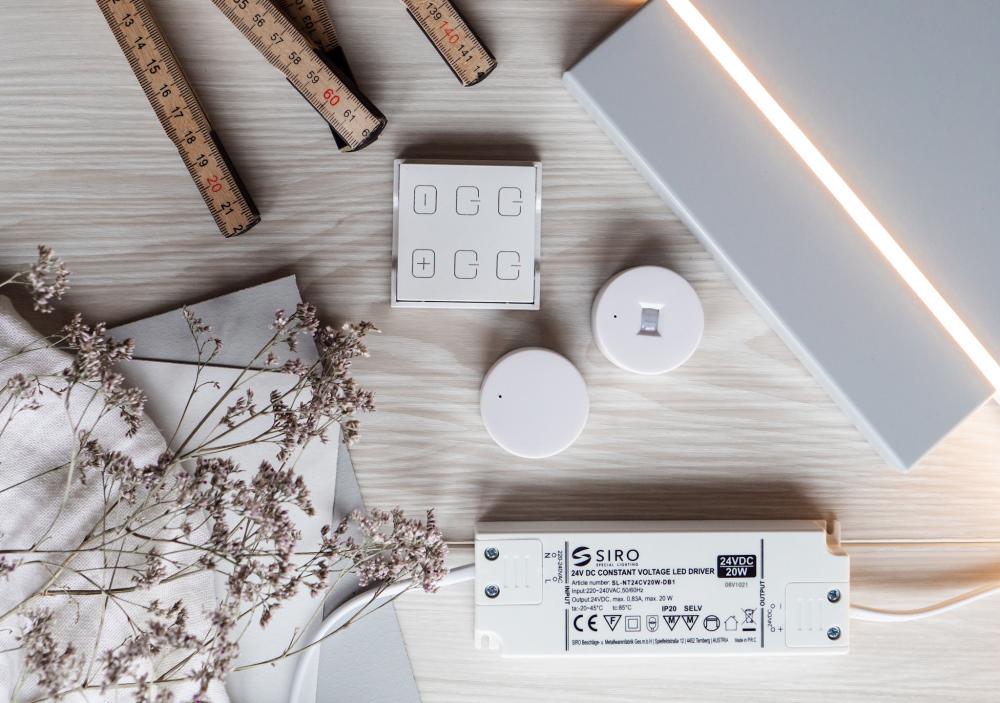 Köksbelysning – Modern LED belysning med oändligt med möjligheter!
Här hittar du vårt kompletta sortiment av LED-belysning för kök, badrum och övriga delar av hemmet. Att belysa ditt hem på rätt sätt är viktigt för att få en trivsam miljö, men också för att skapa den funktion du önskar av de olika rummen! Ta därför tid att även planera din köksbelysning när du börjar din köksrenovering. För många är köket en mötesplats i hemmet där vi både lagar mat och umgås med familj och vänner. Mycket av vår lediga tid spenderas i köket och där av är det ett av de viktigaste rummen att få rätt känsla och skapa trivsel i. Vid matlagning och städning av köket efterfrågar vi ofta en mer kraftfull belysning både i taket och som bänkbelysning, samtidigt som ett mjukare dimbart ljus kan skapa stämning när vi äter frukost eller långa middagar. Det är därför viktigt att planera sin köksbelysning efter båda tillfällena. Vi erbjuder här ett komplett sortiment av belysning till kök och övriga delar av hemmet som både är modernt, snygg, prisvärd och funktionellt!
LED Köksbelysning
Lysdioder, eller LED (LIGHT EMITTING DIODES) som de också kallas, är en uppfinning från 1920-talet som blivit allt mer populär på marknaden på senare år. LED har kommit att ersätta såväl lysrör som glödlampor. Fördelarna med LED är många men en av de mest självklara är att det krävs ganska lite ström för att få lysdioderna att lysa, vilket gör LED till ett bra alternativ både i miljöaspekt och ekonomiskt.
Led spotlight – färdiga kit för montering!
Det populäraste valet idag till köksbelysning är led-spottar. En spotlight är förhållandevis liten, till sin kraftfulla effekt, och placeras ofta infälld i bänkskåp eller i taket. Med en LED-spotlight har du en energieffektiv lampa som är dimbar och kan ge starkt arbetsljus men i samma lampa också ett mjukt dimrat sällskapsljus. Vi erbjuder ett komplett sortiment med 3 olika typer av spotlights, Mono, Mono Mini och Duo för alla hemmets rum och användningsområden.
Spotlight Mono – En allround lampa färdig att användas!
Vår mest klassiska spotlight är Mono. Här får du en komplett dimbar lampa med kraftfullt ljus som passar i alla kök. Lampans ram finns i sju olika färger (Borstad nickel, Svart ram, Vit ram, Kromad, Antik, Svart antik och mässingsfärg) och Mono bygger endast 11mm som inbyggnadsdjup. Mono har en färgtemperatur på 3000 kelvin vilket ger ett behagligt varmvitt sken som passar det nordiska inomhusklimatet.
Spotlight Mono Mini – Perfekt spotlight för vitrinskåp och möbler
Som ett komplement till Mono finns även den otroligt mångsidiga mini-spoten Mono Mini. Mono Mini är endast 22 mm i diameter och passar perfekt inuti vitrinskåp eller i en möbel. Mono Mini är självklart även dimbar och i ljuset har samma varmvita sken som Mono med 3000 kelvin. Här har du en smidig, snygg och pålitlig lampa att belysa viktiga delar av ditt hem!
Spotlight Duo – För dig som vill ha färgkontroll!
Till sist har vi den mest moderna lampan marknaden har att erbjuda, Spotlight Duo! Här får du en spotlight med alla fördelar av en vanlig köksbänkbelysning men här kan du dessutom få ställbar färgtemperatur. Duo har nämligen en justerbar Kelvin från 2700k (Varmvit) upp till 6000k (neutralt kallare ljus) vilket gör att du har full kontroll på hur du vill att din belysning ska upplevas. I vardagsrum, sovrum och rum att umgås i är 3000 Kelvin det vanligaste att välja men som arbetsbelysning kan ett kallare ljus vara mer fördelaktigt och då är det vanligt med 4000 kelvin eller mer.
LED list – En mjuk LED belysning för kök och möbler
En LED-list är en remsa med lysdioder där du välja hur lång belysning du önskar och har behov av! Remsan kan kortas av och böjas för en flexibel belysning till möbler, köksskåp, trappbelysning, bakom en TV eller i kontoret. En LED strip skapar stämningsfull belysning men har kraften att även fungera som arbetsbelysning!
Här erbjuder vi LED-lister som möjliggör, genom sin innovativa LED strip-teknik, väldigt långa LED-remsor med ensidig strömförsörjning (24V DC) utan förlust av ljusstyrka.
LED-listen Flexline från Siro Led är en flexibel LED-ljuslist med silikonprofil och lämpar sig för plan montering på möbler och i skåp. Listen är försedd på ena sidan med en 500 mm anslutningskabel och stickkontakt till drivdonet och styrs antingen direkt med en 24 volts drivdon eller med någon av våra trådlösa strömbrytare. Vid montering kan du välja att försänka listen 12mm ner i skivan för en slät minimalistisk list med enhetligt ljus eller fästa den med hjälp av våra fästklämmor som kan beställas som tillval.
Varför ska man välja LED-belysning?
LED-belysning är mer energieffektivt än exempelvis Halogenbelysning och levererar en 100%ig ljusstyrka omedelbart när du tänder lampan. LED-lampor förbrukar ca 80-90% mindre energi än vad vanliga glödlampor eller halogenlampor gör och har dessutom en längre livslängd i regel. Utöver de här viktiga aspekterna kan du även styra lampornas ljus lättare med LED-lampor. En LED lampa finns nämligen i olika Kelvin, vilket innebär att du väljer den nyansen på ljus som passar dig. Vanligtvis väljer vi 3000 Kelvin i hushåll då det ger ett varmvitt ljus men önskar man neutralt till kallt ljus till exempelvis arbetsbelysning finns 4000 Kelvin och högre.