Complete lighting kits - ready to assemble!

Here you will find complete LED kits with LED lamps & LED strips wherein the power supply & the desired switch are included in the delivery!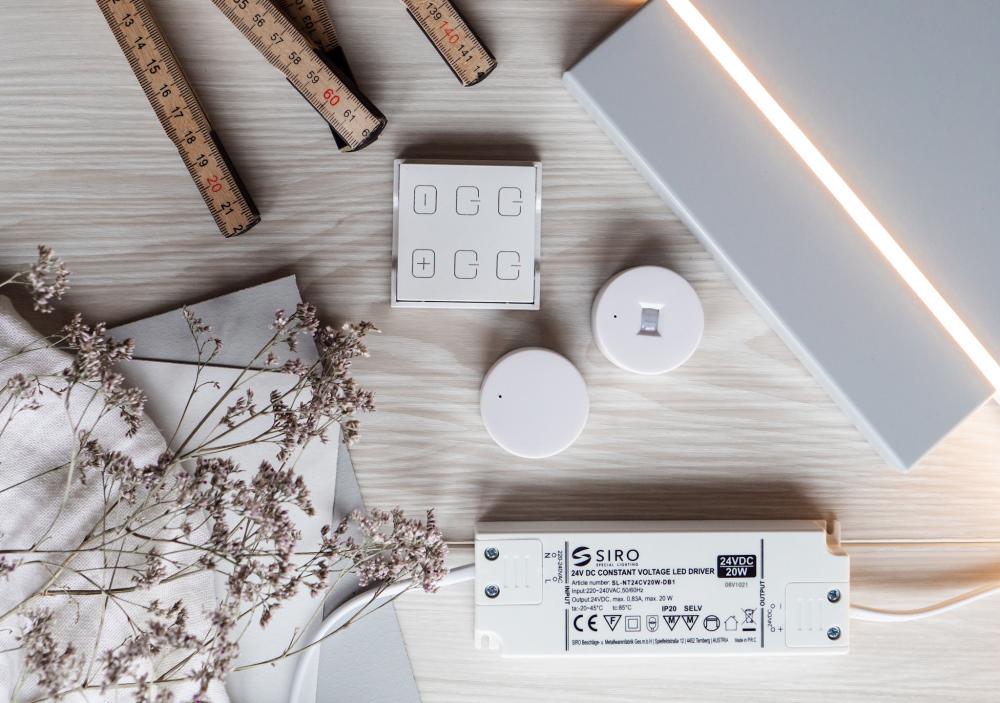 Färdiga LED kit för kök och under skåp – Nu kan alla handla belysning utan förkunskaper!
Hos It's Design köper du färdiga belysningskit där du inte behöver fundera på vilket drivdon som passar vilka spotlight eller hur lång LED list du kan driva med en 60 watts transformator. Här kan alla köpa köksbelysning utan några som helst förkunskaper!
Vi erbjuder färdiga belysningslösningar för kök, hall, möbler och kontor. Alla set är inklusive rätt drivdon och av gedigen design från Österrike. Det enda du behöver välja är färg, antal lampor eller önskad längd på din LED list.
Belysning med plug and play-känsla
Vår vision när vi tog fram vår belysningsserie var att skapa en komplett serie som är så enkel att alla kan montera den! Det är ingen hemlighet att köksbelysning kan vara komplicerat, kräva matematiska uträkningar och vara lite obehagligt att hålla på med, därför vill vi nu erbjuda en belysningslösning där inget kan gå fel!
Vi erbjuder nu olika komplette LED kit där du endast väljer antal lampor eller längd på LED stripen och sen hjälper vi dig med resten. Kiten levereras kompletta med rätt drivdon för dina lampor och med önskad strömbrytare. Vill du koppla lamporna in i en befintlig strömbrytare på väggen så väljer du bars "utan strömbrytare" som alternativ.
Våra LED belysningskit är inspirerade av det gamla datauttrycket "Plug'n'Play". När du får hem lamporna ska du bara behöva sätta ihop kontakterna så är belysningen klar att användas. Enklare än så här blir det inte!
Vad ingår när man köper ett belysningskit från It's Design?
För att beställningen av din nya köksbelysning eller möbelbelysning ska gå så enkel och smidig som möjligt så behöver du bara välja två saker när du gör din beställning – antal lampor/längd på strip och om du önskar strömbrytare. Sen sköter vi resten! I varje kit ingår det dock fler saker som vi väljer ut och som då passar dina val.
Om du väljer några av våra LED spotlight i kit så levererar vi lamporna i önskad färg, vi har lampor i mässing, antik, nickel, svart, vit med flera, och sen ett passande drivdon. Drivdonen är hjärtat i belysningen och det här härifrån lamporna får ström att lysa. Ett drivdon kan dock vara olika starkt och driva olika antal lampor med sin kapacitet men det här håller vi koll på åt dig!
Önskar du även en strömbrytare till din nya belysning så levererar vi, tillsammans med lampor och drivdon, även en strömbrytare och en mottagare som tar emot signalen från din strömbrytare. Här kan du välja på en strömbrytare som du styr med beröring, touch sensorn, fjärrkontroll, kontrollboxen eller med hjälp av rörelse, PIR sensorn. Alla våra strömbrytare är trådlösa vilket gör att du även behöva en mottagare inkopplad som tar emot signalen från de trådlösa strömbrytarna men även det hjälper vi till med!
Letar du efter kompletta kit med LED lister finns självklart även det att välja på! Här behöver du bara välja hur lång strip du önskar, från 450 mm upp till 3000 mm, och hur du önskar styra din strip så anpassar vi resten åt dig!