Drawer Mats
Custom-made drawer mats for all the kitchen drawers on the market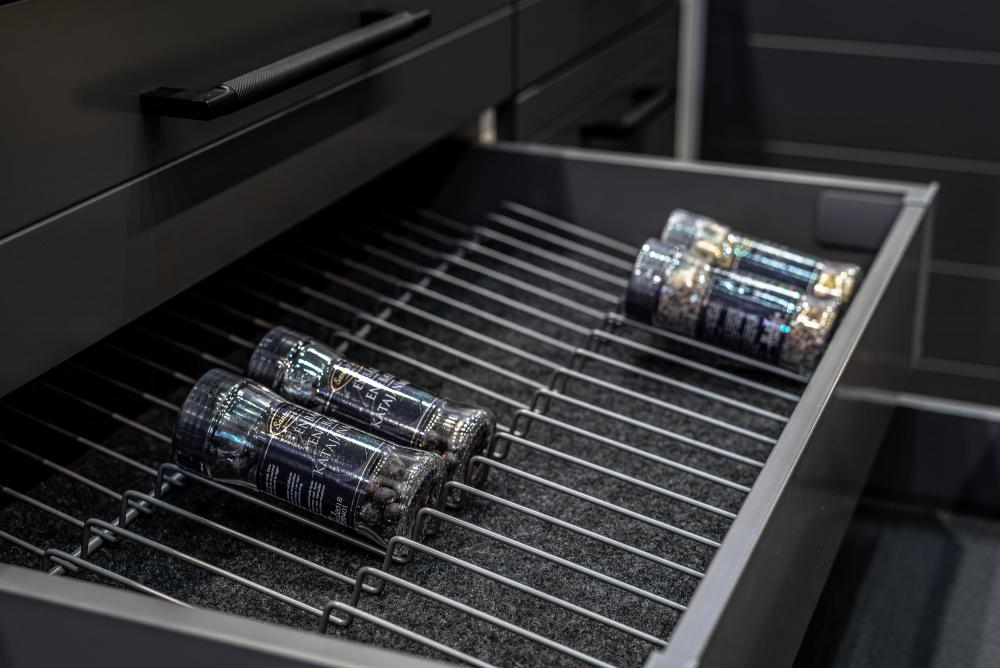 DRAWER LINER
Liners for your kitchen drawers should be considered an investment for your kitchen as they will extend their lifespan greatly. Pots, knives and cutlery may all very easily damage the bottom of your drawers and may also create an unhygienic environment after some time. However, there's a simple solution for both these problems – tailored drawer liners that fit all drawers!
At It's Design, you will find linings for kitchen drawers, made of non-slip material and felt that we cut to your exact measurements. All you have to do is measure the bottom of your drawer and input the measurements in millimetres, at checkout, and we custom make your drawer liner for you. The liner is then delivered to you within two working days. This allows us to offer liners for all kinds of kitchens of the market and it doesn't matter if you have old or new drawers in your kitchen.
FELT LINER – CUSTOM MADE FOR YOUR DRAWERS
Our felt liners give your drawers an exclusive feel. They can elevate a classic white metal drawer but will also work well as a complement to your expensive oak drawers. The felt of the liner dampens the noise made from utensils and kitchen items at the same time as it protects the drawer from wear and tears as well as add a nice touch of design to it. The felt is made from recycled, Swedish polyester, without any hazardous chemicals. The liner is woven using a needle which in turn makes it very durable, as well as toxin-free. Polyester is used in our felt liners since it's more resistant to moisture, compared to other materials like wool, and should be able to handle putting your newly washed utensils in, right after you're done cleaning them. However, our felt liners will even get dirty after some time and when that happens, simply remove them and vacuum and/or wipe them clean with a damp cloth. At It's Design, you can order custom-fitted felt liners online at a good price and have them delivered quickly to your house.
NON-SLIP LINERS
Our drawer liners made of non-slip materials are, like our felt liners, flexible and customizable into several different measurements. The liners are fitted to the bottom of your drawers and apart from protection and dampening, they provide a stable and secure drawer surface for your utensils. Our non-slip liners have a durable surface made of a non-slip material that helps knives, utensils and cutlery stay secure in your drawers. The drawer liners have an upper layer of TPE which is a thermoplastic kind of rubber and a bottom layer of Polystyrol. The whole liner is, however, recyclable once it's been used. If you wish to order liners custom-fitted to your drawers then you've come to the right place! It's as simple as this: 1. Measure the bottom of your drawer, preferably in millimetres 2. Choose what kind of liner and input your measurements under the item 3. Have your custom drawer liners delivered within three working days.