Cleaning Cabinet Interior
Interior solutions for cleaning cabinets. Medical cabinets, vacuum cleaner holders and cabinet pull-outs.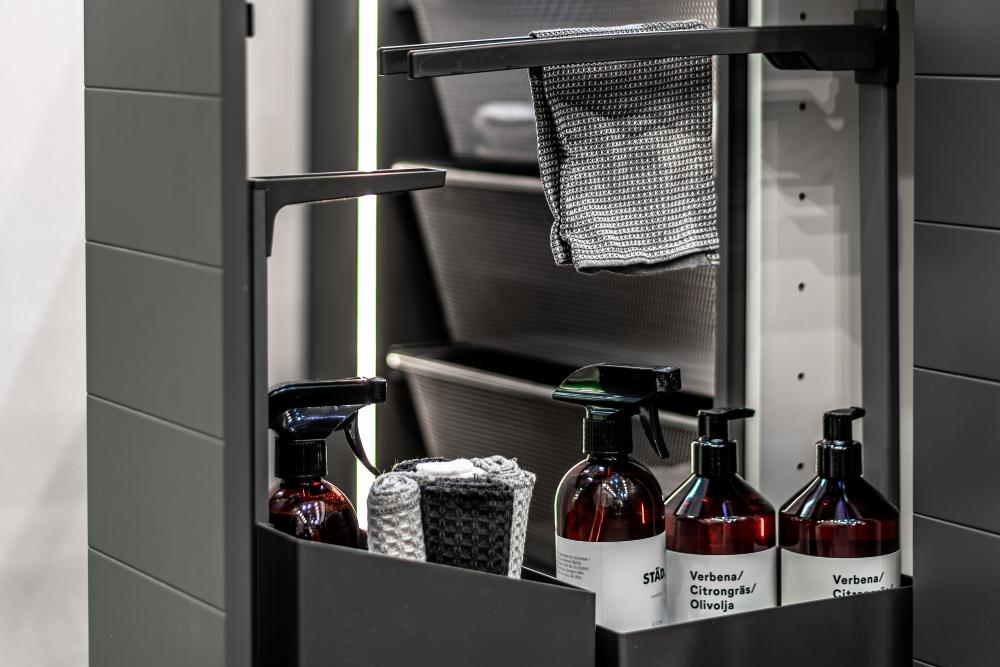 FURNISHING FOR YOUR CLEANING CABINET
A tall cabinet in the kitchen or hallway usually turns into a storage place for the vacuum and other cleaning products called the cleaning cabinet. Furnishing and organizing your cleaning cabinet can really clean up an otherwise cluttered cabinet filled with things that you eventually don't even know why they're there.
We have therefore collected a selection of furnishing items for your cleaning cabinet that help you organize the clutter of it. Here you will find convenient extensions fitted for your vacuum, hangers for the vacuum hose, small extendable shelves for batteries, furnisher foot tabs and the likes of, as well as a smart medicine cabinet.
Does one need an extendable storage place for their vacuum? We think so! This doesn't only make the vacuum more accessible but it also comes with a shelf for the cleaning spray, as well as hooks for your cloths and duster – all in one smart extension that's also soundproof!
Are you finding it difficult to know where to put all of your cleaning products to keep them away from your children? Then our medicine cabinet is just the thing for you! In this, you can safely store away everything from prescription medicine to sodium hydroxide and other dangerous chemicals. The cabinet is just the right size to fit in a slimmer tall cabinet while being just big enough to fit all of your medicines and chemicals.