Spice shelfs & Spice inserts
Smart spice storage for drawer or cabinet doors in plastic, metal or wood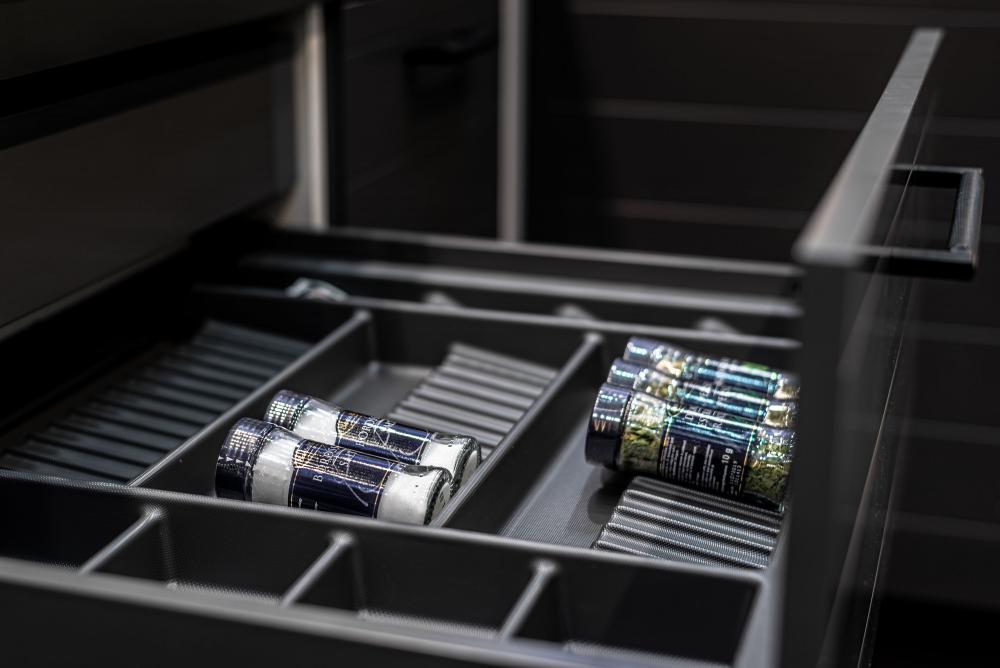 SPICES STORAGE FOR DRAWERS AND CABINETS
Do you need to spice up your kitchen drawers? Then you've come to the right place! The times when spices were to be lined up in our cabinets without browsing abilities are over. Finally, we can now store our spices in a convenient and elegant way, both in our drawers or cabinets!
Here you will find smart and convenient spice jar inserts in different models that are customizable to fit many different kinds of kitchen drawers. Experience the difference of having an overview of all your spices in a drawer, instead of just throwing them all in a cabinet for a messy browsing experience.
Our spice storage solutions are meant to fit many of the classic Santa Maria jars and fit both the old model, as well as the new ones. The different items provide a rough estimate as to how many spice jars can fit in each model.
SMART SPICE STORAGE FOR SLIM DRAWERS
Some kitchens have drawer units have quite slim drawers or perhaps you are looking to store your spices in the drawers of your kitchen island that have quite the odd measurements. This is the reason why we carry a spice tray in plastic that we can fit according to your exact measurements, both lengthwise and widthwise. Choose between grey or white plastic and input your exact measurements and we will cut your spice storage to fit the measurements of your drawers.
SPICE TRAYS IN WOOD, METAL AND PLASTIC
To fit the needs of everyone, we don't only carry customizable trays but also several other models of spice jar inserts. We carry spice storage solutions made of oak, white wood, grey and white plastic as well as silver and anthracite grey metal, all to fit all different kitchens and styles.
SPICE STORAGE FOR CABINET DOORS
If instead, you're short on space in your drawers and prefer to keep your spices stored on a cabinet door, we have a smart spice rack that fits onto the inside of your cabinet door. With a spice rack fitted to your cabinet door you gain a great overview of all your spices, you save space in your other cabinets and drawers as well as you get an elegant and smart storage solution.
The spice rack for cabinet doors may also be fitted externally on an available side of your kitchen, close to the stove as a nice interior detail that also provides convenient access to all your spices. Our metal spice racks come in two different sizes and all fit about 16 or 24 jars of spices.