Handles
A handle is a hardware with two fixing points for screws. Fine kitchen handles are like jewelry for the kitchen: they gild and can change the feeling in your kitchen.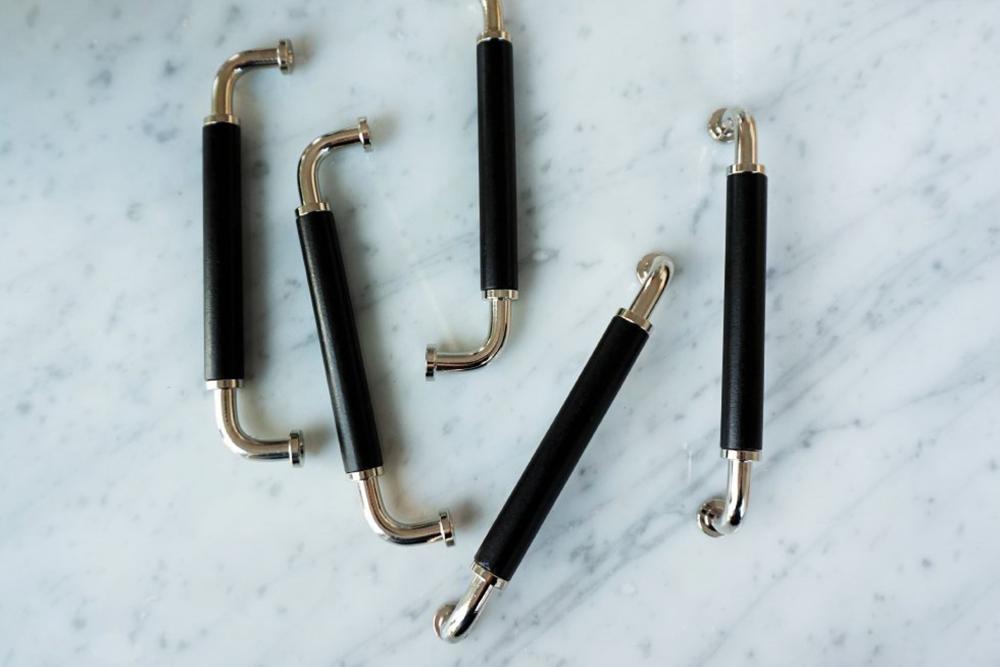 KITCHEN HANDLES – THE JEWELLERY OF YOUR KITCHEN
The kitchen is the heart of the home. It's a place where a lot of time is spent, both during weekdays as well as on the weekends. Obviously, you want an elegant kitchen suited for all days of the week! Something that can bring a kitchen above and beyond all is matching kitchen handles. They are so much more than devices for opening and closing cabinet doors and drawers. Give changing your handles a go and watch your kitchen transform as new, before your eyes! Change all handles at once or mix it up a bit and combine different styles or shapes, like using bowl handles on your drawers and matching knobs on your cabinet doors. You can find handles in a wide range of shapes, materials and styles, in our online store.
Start by picking the material you want. Different materials provide different feelings. In our selection you will find, amongst others, fittings made from tree, metal and stainless steel as well as, leather-bound and nickel-free handles. What the current style of your kitchen? Does it have rustic and old-fashioned furnishing then maybe some wooden or robust, metal handles might be fitting. Or perhaps the classic Ticka fittings. If your kitchen is of a more modern style, some polished, straight and simplistic, stainless steel fittings might be more suitable. When it comes to design, there's a lot to choose from and even if you might find one that's specifically designed for your kitchen, the choice ultimately comes down to personal preference. Chose the handles that you like and that you want!
Often, our handles come in many different sizes. The measurements are referred to as CC Measurements which in turn refers to the distance between the centre (C) most point of one hole, to that of the other (C). Previous standard measurement was 87mm but these days, several different measurements exist. Which ones you pick is up to you but if you have pre-drilled cabinet doors, it might come handy to pick handles with the same CC Measurements as the doors. That way, you can just fit the new handles onto your doors, using the same holes. If you want to drill new holes for your handles, you can use our mark-up stencils made from recycled plastics.