Porcelain Knob Retro
Nice knob in porcelain with many possibilities!
Watch this product and we will notify you once it is back in stock.
Porcelain Knob Retro
Nice knob in porcelain with many possibilities!
Description
Furniture knob in porcelain for kitchen, bathroom or hallway. Fits nicely on a dresser or sideboard, but also suitable as a kitchen fitting in a country kitchen.
Made of porcelain and top screws in metal.

The knob is delivered in a package together with two wooden screws, one of which is in brass and one black, and a knob cap in brass if mounting with a M4 screw.
If you choose to mount with an M4 screw, please state your thickness of doors / drawers above and we will adapt the screws to your measurements. If nothing is stated, we will send screws adapted for 16mm doors.
Porcelain knobs are also beneficial if you are hypersensitive to nickel.
Measures & Mounting
Measure
| | |
| --- | --- |
| Diameter | Height |
| 37 (mm) | 29 (mm) |
Mounting
The hardware is mounted with the supplied screws through a door or drawer.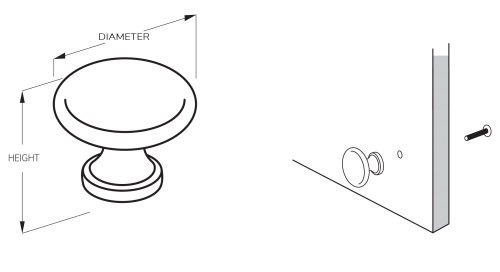 More info
Material
Installation
M4 screw is always included in orders. Feel free to state the thickness of your doors / drawers and we will send suitable screws, otherwise we will send standard screws.
Care instructions
Can be cleaned with a soft cloth.
Brand Information
Linfalk Beslag & Inredning is a family business based in Linköping, Sweden. The company was started in 1989 in the small village of Bestorp, 30 km south of Linköping, and has for over 30 years delivered kitchen details and kitchen fittings to all around Sweden. Linfalk has a complete range of handles, knobs, hooks, drawer fittings, cabinet fittings, lighting and other kitchen details. As a reseller to Linfalk, It's Design offers the entire Linfalk range online.