Kids Knobs
Disney knobs & drawer pulls such as cute animals, boats and candy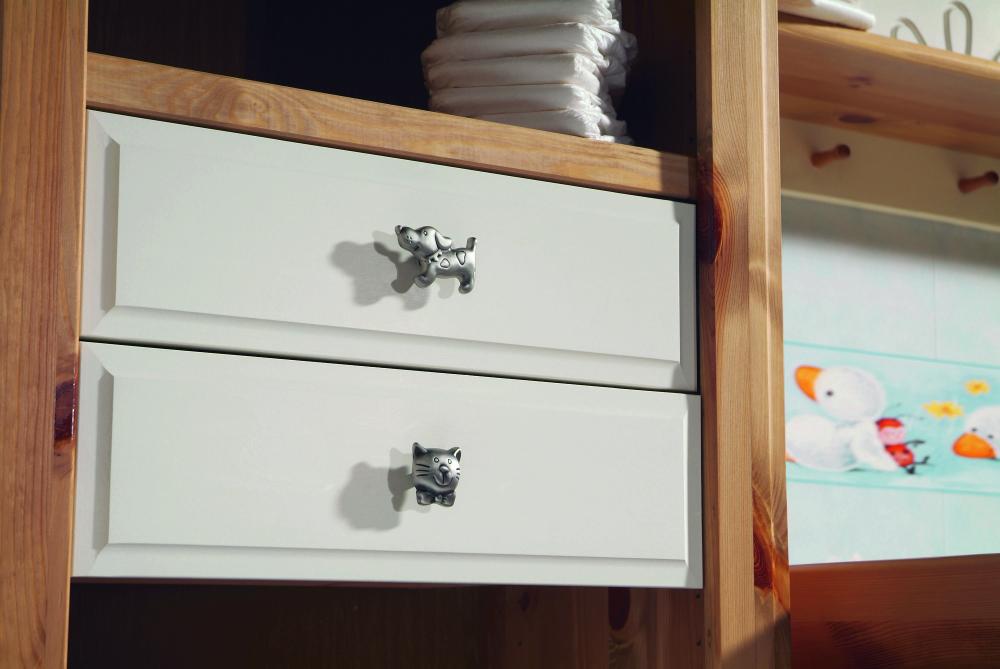 CHILDREN'S ROOM KNOBS
Your child's room ought to be playful, inspiring and cosy – but also provide plenty of storage. That is at least a commonly expressed request of many parents. It can, however, be challenging to get all of this and more times than not, the process takes a halt when the prospect of a long and expensive renovation is brought up. In this section, we give you three tips of renovations for your children's room that you can use to decorate in a quick, easy, inexpensive but also smart and personal way.
Find a bargain dresser or side table second hand and paint the drawers and knobs in pastel colours! Old dresser made of wood are found endlessly throughout second-hand items and hobby paint doesn't have to be especially expensive when used in smaller quantities. Once the drawers are painted pastel pink and blue, you can decorate them with little cute wooden knobs that may then be painted in the same colours.
Pimp my Ivar
One of the more popular side tables at the moment, are the IKEA Ivar ones. Ivar is nice with its simplicity but can easily be 'pimped' up like crazy. Quite literally.
You may for instance paint tall mountains on to your Ivar dresser. You then only need to get some grey colour for the mountains, as well as some white for the snow on top of them. Then what you do is paint three large triangular mountains onto your dresser and cover their tops with snow. As a finishing touch, you can then fit our aeroplane shaped knobs above the mountains and have them soar through the skies above. The aeroplanes are very nice and rich with details and will without a doubt be a huge success in your children's room. In the same series, you will also find a sailing boat as well as dog and cat knobs to match onto bed-side tables, wardrobes and as hooks on your wall.
Rubber knobs for your wall
Many parents battle on a sig-saw of what they want to give their child and what they can't due to the risk of their safety being compromised. One thing not commonly considered though is that picking regular dresser knobs for your children's room might pose an unnecessary risk of accidents.
Accident happen and avoiding them completely is very difficult but when accidents strike, it may be convenient that the surroundings of your child's home have been prepared as much as possible. Knobs that poke out and hard, metal ones may be unnecessary when there are options available.
We have a selection of children's knobs, completely made of rubber. The knobs may also be mounted onto your walls as hangers or on a child's dresser or a closet. Not only are they soft and cosy, but also very pleasant to look at. Our rubber knobs all come in colourful colours and the shapes of cats, dogs, snails, footballs, smiley as well as other nice characters, all perfectly suited for your child's room.